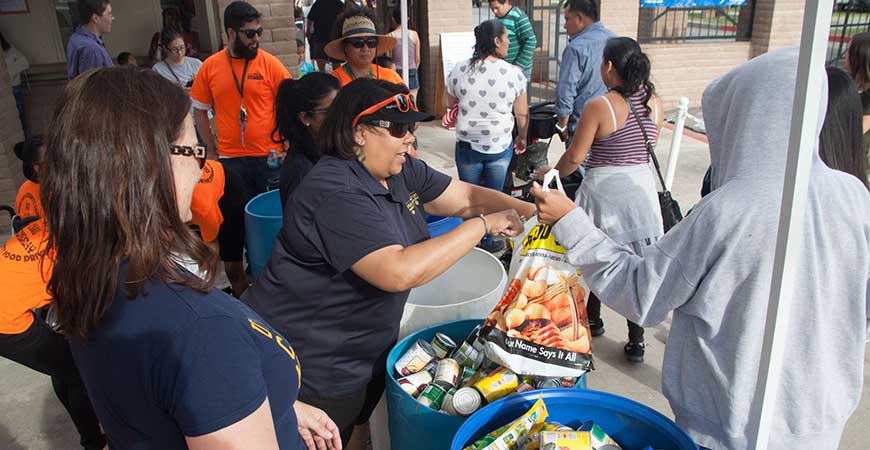 UC Merced is partnering with the Merced County Fair to support Mercy Medical Center's "We Care Wednesday" Community Food Drive.
Anyone can join the fight against hunger and gain free admittance to the fair by bringing five or more cans of food from 5 to 7 p.m. Wednesday (June 6). All donated food goes directly to the Merced County Food Bank to support the fight against hunger.
"The purpose of our food drive is to bring the community together — that's participants, volunteers and partners — to build awareness of food insecurity in our region and help one another," said Merced County Fair CEO Teresa Burrola. "Last year we almost doubled our collection totals from the year prior. This year we hope to collect 10,000 pounds as part of our food drive, but we need the community's support and participation to achieve that goal."
UC Merced joined the food drive effort in 2017 to help increase awareness about food insecurity, recruiting participants and raising food-donation totals, and those efforts paid off. More than 7,000 pounds of food came in during last year's food drive — a 46.7 percent increase over 2016 — and this year's results are expected to be higher.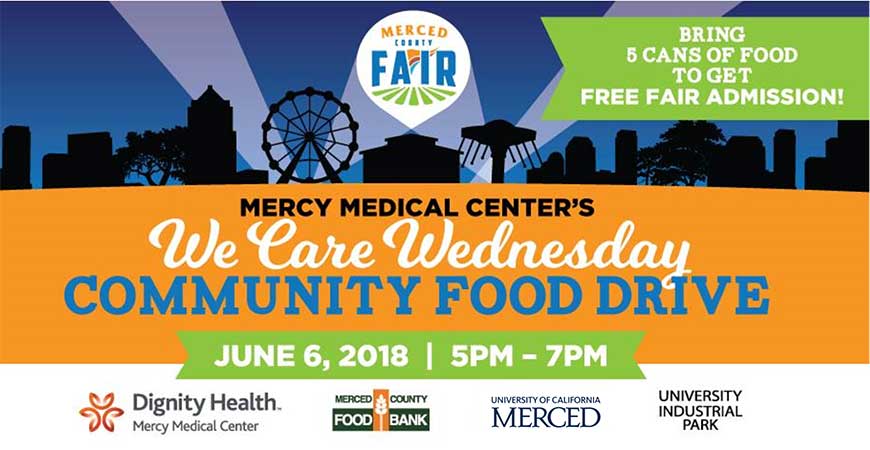 "Hunger in our community is experienced everywhere — by our students, our neighbors and the people we pass in our everyday lives," said Vernette Doty, who supervises UC Merced's Community Engagement Center and food security initiatives. "Many don't know when they'll eat their next meal or must choose between feeding their families or themselves. Getting our students, staff and faculty involved is another way UC Merced can help create positive change in our community, and we are happy to be a part of this important effort."
A recent survey showed that 57 percent of UC Merced students have experienced low to very low food security, a critical issue not only on campus, but across Merced County.
According to the latest census data, 25.1 percent of Merced County residents and 35 percent of Merced city residents live in poverty. The Merced County Food Bank's 2016 report shows the county's overall food insecurity rate is 15.5 percent, which is higher than the state average of 13.9 percent.
"Unfortunately, the need for food assistance in our community continues to grow," said Bill Gibbs, Merced County Food Bank executive director. "Partnerships and food drives like this one with the Merced County Fair and UC Merced are essential for us to continue to try and feed the growing need. We are grateful for the continued partnership and look forward to this year's food drive effort."
Contact Vernette Doty for more information.