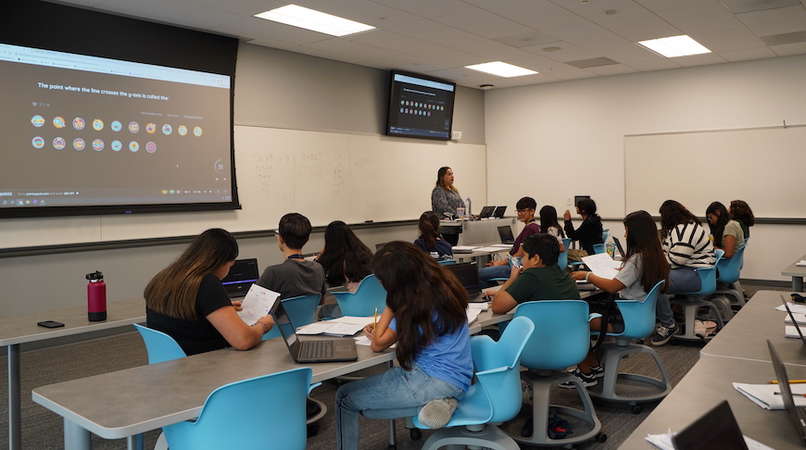 Here's a challenge:
Four weeks, five days a week and seven hours a day, you have to teach math to middle school students.
During the summer.
And you have to keep it interesting.
The Center for Educational Partnerships (CEP) has been doing just that for the past 18 years at several sites, including UC Merced.
How?
"That's the magic part of academies," said Amelia Bomhoff, CEP policy analyst. "We get the most energetic, engaging teachers and give them free rein to teach outside the confinement of a classroom."
Instead of hours spent sitting at a desk doing equations, students might hit the gym and shoot baskets for a lesson on ratios.
Ruben Reyes, project director for the Talent Search academy at UC Merced, said there are keys to successfully engaging students, including games, team projects and "a whole lot of hands-on activities."
Since 2005, the CEP has been working with students in the San Joaquin Valley on academic interventions that support their academic and postsecondary readiness in mathematics and other subjects to help advance their readiness for college and careers. Roughly 300 students participated in academies across campus sites this summer.
"We realize that to increase students' A-G course completion rates to meet the UC and CSU admission requirements, we must partner with districts to provide our program participants with academic-focused interventions," said interim Associate Vice Chancellor Orquidea Largo.
A four-week session with 46 students from Livingston Middle School concluded the first week of August. The academy is aimed at children who could use a little boost in math. The idea is to work with students who might be "on the bubble" of getting to the next level of achievement.
"We hope that with early exposure to the concepts they'll experience in math class, their chances for success are a little bit better," Bomhoff said. "It's an opportunity to change mindsets regarding math, which can be anxiety-producing."
At the UC Merced Talent Search math academy, the students were grouped into three classrooms, with various types of learning activities going on during the day. One classroom was getting quizzed directly while other students were working in a team competition to respond to questions regarding slope equations.
The other upside to the camps is they provide students the opportunity to spend time in a college setting, so they begin to see themselves at college. Other sites include Fresno Pacific University, Reedley College, Fresno City College, and California State University, Fresno. In the past, the CEP also has utilized Porterville College.
"They get to talk to college students, eat in the Pavilion and develop a sense of belonging with the campus," Bomhoff said. "It's been pretty holistic for those partnerships."
The CEP hires UC Merced students, typically those majoring in STEM (science, technology, engineering and math) subjects, to work alongside the instructors in teaching kids.
One of them is Lorena Ortiz, a fourth-year applied math major from Merced who hopes to go into a career in data science or analytics.
She said the experience of teaching younger students has also been valuable for her.
"It helps me build patience, as well as critical thinking skills, to figure out how to explain concepts," she said. "To you, it might seem easy, but to them, it's a struggle."
Justin Castillo, 12, said he wasn't sure what to expect when he was selected to attend the academy, but he's glad he did it.
"I get to learn stuff I don't know," he said.
Fellow Livingston students Nataly Garcia and Alejandro Dominguez, both also 12, agreed.
"It's fun," Garcia said. "There are lots of projects."
Added Dominguez, "We play games while learning math."
Getting families on board with sending their kids to the academies was not difficult.
"We did a lot of phone banking, and we had two parent days that were really successful," Reyes said.
He said he hopes to work with the middle school students throughout the school year.
It's a school year that has several students feeling more confident about their skills in math, thanks to the academy.
"I feel much more prepared for when we go back to school," Garcia said.
More information on the summer math academies is available on the CEP website .