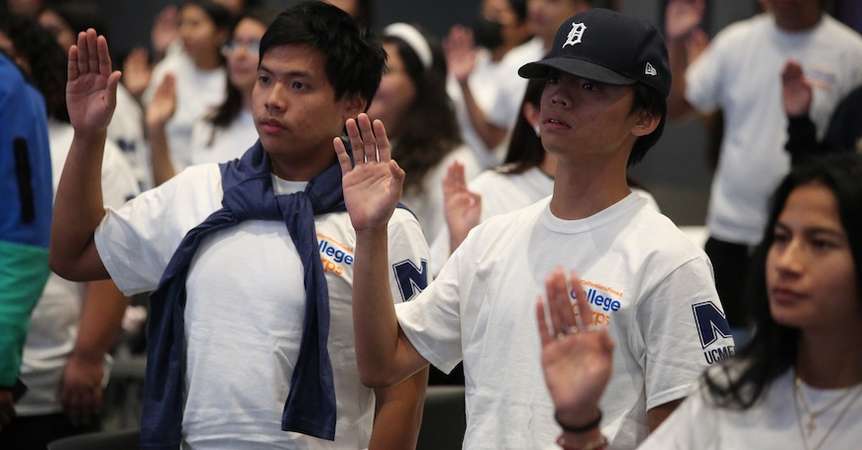 Dozens of UC Merced students took their oaths as members of the College Corps recently. The program, which provides stipends to students in exchange for working with community partners, is in its second year.
The second cohort of UC Merced's College Corps was sworn in Sunday, Aug. 28.
It's more than just a way to help these students pay for college, explained Assistant Vice Chancellor for Student Engagement Brian O'Bruba, who administered the oath. It's an opportunity to develop a service mindset that will last a lifetime.
"They are not just going to school here," he said. "With this program, they become true partners in our community. It's a hallmark of the UC Merced experience."
The initiative was rolled out last year at 45 campuses, including UC Merced, through a competitive grant process. Its goals, according to the website, are threefold: to create a generation of civic-minded leaders with the ability to bridge divides and solve problems, to help low-income students graduate college on time and with less debt, and to address societal challenges and help build more equitable communities across California.
This year's UC Merced cohort is larger than last year's, said Vernette Doty, director of the campus's Community Engagement Center.
"We will have 120 members," she said (101 were on hand for the swearing-in ceremony). That's up from last year's 97. They will be working with 25 community partners that include the Boys and Girls Club of Merced County, the city of Atwater's Recreation and Community Events department, the Fossil Discovery Center of Madera County, the Merced City School District, Restorative Justice and programs at UC Merced including CalTeach and Sustainability.
Students spent the weekend ahead of the swearing-in ceremony getting to know one another and becoming familiar with the program. One activity they took part in was called "preflection," in which students wrote on posters what they think they will get from the program. At the conclusion of the academic year, O'Bruba said, the cohort will look back and see how accurate their predictions were.
According to the entries, the students are looking forward to meeting new people, networking, learning time-management skills and being of service to the community. They also expressed concerns about balancing busy schedules, completing the 450 hours of required volunteering and figuring out how to fill out their timesheets.
But, the students said, they are looking forward to seeing "the impact on the people we help."
Just before members took their oath, the new cohort was welcomed by Gov. Gavin Newsom in a recorded video.
"I can't wait to see the amazing work each and every one of you will accomplish," Newsom said.
First-year student Jaylin Doxey of Los Angeles said she is looking forward to the opportunities provided through College Corps.
"It's a great way to get involved in the community," Doxey said. "And I like that if you can't make it to one of the volunteer sessions with your assigned partner, there are opportunities to make up the time in other ways."
More information on the College Corps program is available on the Community Engagement Center website .