Re: Celebrating Pride Month
To: All Campus 
June 4, 2021
Dear Campus Community,
One year after the start of the Stonewall Uprising, on June 28, 1970, the first Pride parades and marches were organized. Pride Month now takes place annually in June as a month of remembrance and celebration, and to renew our conviction for a society with equal rights and opportunities for all citizens. In recent years, Pride Month has made immense impact globally, where LGBTQ+ communities around the world get together to commemorate great moments in queer history and celebrate queer liberation.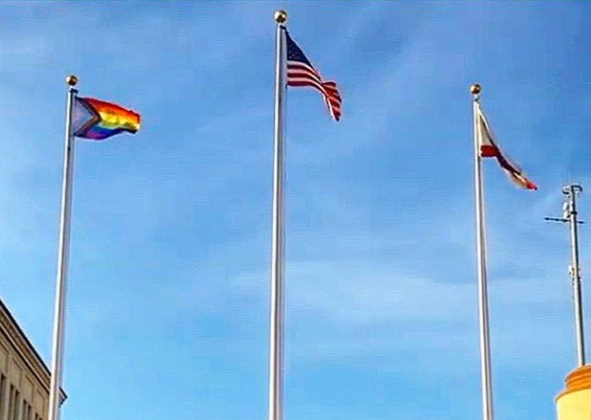 Earlier this week, the city of Merced recognized the start of Pride Month with the raising of the
Progress Pride flag in Bob Hart Square on Main Street
. The Progress Pride flag was introduced in 2018 to expand the efforts around inclusion. It includes as its base the rainbow flag, which has become widely recognized as the symbol of the LGBTQ+ community, and adds a chevron along the side of black, brown, light blue, pink and white. The brown and black are to represent communities of color within the LGBTQ+ community and the light blue, pink and white are from the Transgender Pride Flag.
The Chancellor's Advisory Committee on Queer Issues (CACQI)
shares a number of resources here
for members of the UC Merced community to learn more about the Pride movement in the US.
On June 28, 1970, the first Pride Parade and marches were organized. In 2021, after more than 50 years of efforts that have helped galvanize momentum for progress and change, Pride Month reminds us of the movement and energizes us around continued action. We hope that you take time during this month to learn, celebrate and advocate.
Wishing everyone a happy and safe Pride Month,
Juan Sánchez Muñoz, Ph.D.
Chancellor
Dania Matos, J.D.
Associate Chancellor and Chief Diversity Officer
Pronouns: she/her/ella
Charles Nies, Ph.D.
Vice Chancellor of Student Affairs
Pronouns: he/him/his