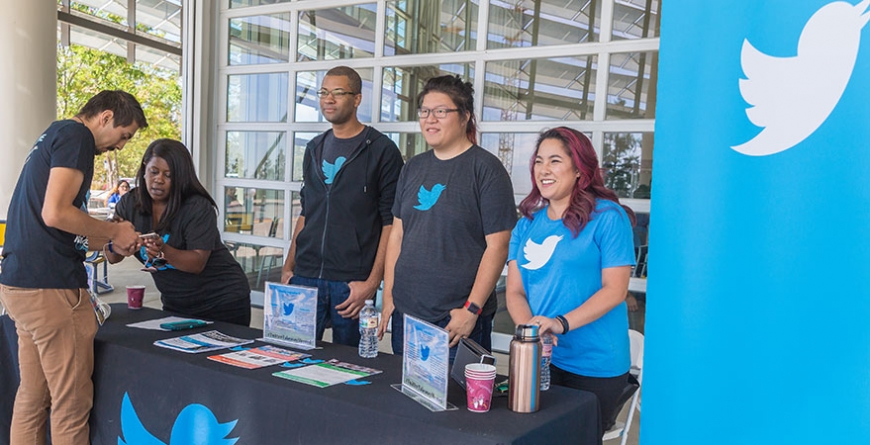 Senior mechanical engineering major Kelvin Cheung from San Francisco got a head start on his career exploration during his first year at UC Merced.
Science, Technology, Engineering and Math (STEM) career specialist Robert Goodman one of four career specialists for the Center for Career and Professional Advancement in UC Merced's Office of Leadership, Service and Career, played a crucial role in preparing him to apply for internships.
"Robert gave me guidance on what I should do early in my college career to prepare for a career in the engineering industry," Cheung said. "He motivated me to not limit myself and to push my personal boundaries.
"I put what he said into action by taking advantage of the many engineering opportunities UC Merced has to offer."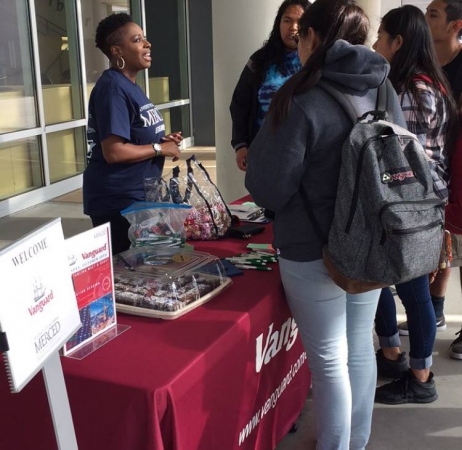 Identifying Key Resources
Without the proper direction and resources, finding a career and searching through job openings can be intimidating and stressful for college students.
Career specialist Myra Fernandez is dedicated to helping undergraduate and graduate students with career and professional development advice to help prepare them for life after college — whether it's attaining higher levels of education or pursuing careers.
"I was a first-generation college student, so I know the impact that landing a job or getting accepted to graduate school after graduation can make," Fernandez said. "Our students have the ability to change generations to come."
Fernandez reviews cover letters and resumes, helps identify internships and jobs, and assists with the graduate school process.
One of the most important skills she hones with students is interview preparation.
"Students must demonstrate knowledge of the organization, in addition to articulating their strengths, knowledge, skills and experiences," Fernandez said. "This takes learning and practice, and that's where we come in."
Students are encouraged to engage with the center early on, like Cheung did, to begin building their portfolio of experiences, including clubs and organizations and internships.
Fernandez and Goodman aren't the only one providing students support and guidance.
Alumnus Joshua Bustamante credits the center's Employer Relations and Internship Coordinator Chris Alarcon for helping him get a job directly after graduation.
"With the help of the Center for Career and Professional Advancement, I was able to get an interview for a position as an investment brokerage professional, which I accepted," he said. "After talking with Chris, he helped me make the right decision for myself."
Bustamante, who is from Los Angeles, graduated in spring 2017 with a bachelor's degree in business management. He was involved with campus organizations such as the Business Society and Alpha Kappa Psi business fraternity. He was also an intern for the Venture Lab through the Student Success Internship program and volunteered at Merced High School.
We've found our hires from UC Merced to be innovative and results-oriented leaders ready to make an impact at the winery on day one.
Partnering with Employers
The center is dedicated to cultivating relationships with employers from across the state and nation.
Vice President of Operations for E. & J. Gallo Winery Bill Stewart and his team visited the campus last year and developed a plan that has led to better collaboration between the company and the campus.
"At E. & J. Gallo Winery, students and grads work on relevant real-world challenges," Stewart said. "We've found our hires from UC Merced to be innovative and results-oriented leaders ready to make an impact at the winery on day one."
Danielle McCormick, University Relations Specialist with Vanguard — one of the largest investment management companies — works closely with career specialists at UC Merced and other campuses. In 2016-2017, Vanguard hired 13 students from UC Merced.
"UC Merced students possess a determination to make a difference in their communities by achieving personal success and paving the way for others to replicate and exceed them," McCormick said. "Our common goal of serving and continuously improving in pursuit of excellence is the reason I seek to hire UC Merced students."
The center connects students to opportunities and experiences that best fit their talents through career fairs, on-campus interviews, career development programming and other opportunities. Students also have access to CATLink, a resource for job and internship postings, resume referrals, tailored job blasts and employer databases.
Similar support services are also available at no charge to UC Merced alumni who've typically graduated within the past three years.
The Center for Career and Professional Advancement is located on the second floor of the Student Services Building, Suite 230, and is open Monday through Friday from 8 a.m. to 5 p.m. Appointments are recommended and drop-ins are available Monday through Friday from 11 a.m. to 3 p.m. For more information, call 209-228-7272 or email careercenter@ucmerced.edu.