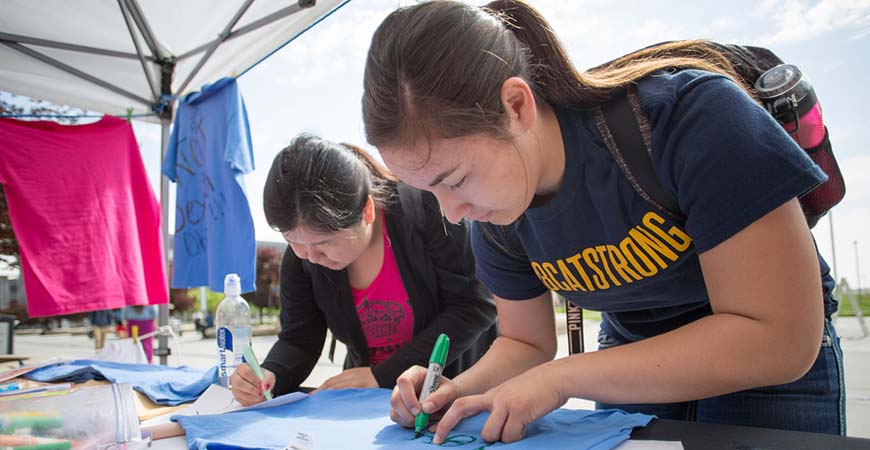 April is Sexual Assault Awareness Month (SAAM), and UC Merced is hosting a series of events to provide campus community members opportunities to increase awareness and advocate for sexual assault prevention and intervention programing.
A highlight of this month's activities is the return of "The Vagina Monologues," a series of monologues and pieces adapted from interviews with women addressing issues of womanhood, sexuality and strength, and ending violence against women. UC Merced undergraduate and graduate students are the cast and crew.
The production is hosted by the student group VOICES , and is sponsored by the Campus Advocacy Resources and Education (CARE) Office , Chancellor's Advisory Committee on the Status of Women , the Center for the Humanities and Women's Programs in the Office of Student Life .
Showings are at 7 p.m. April 13 and 15 and 5 p.m. April 22 in the Lakireddy Auditorium. Tickets cost $5 and proceeds benefit Valley Crisis Center, which provides support for those affected by sexual assault, domestic violence and stalking in Merced County. The official hashtag for the month's events is #SAAM. Using it on all channels allows for conversations with others throughout the nation.
Other activities planned during the month include:
April 5 : LGBT Relationships – noon to 1 p.m., Room 396, Leo and Dottie Kolligian Library
Discussion of healthy relationships through art for the LGBTQ+ community.
 
April 9: Graduate Students Creating Change – 3 to 5 p.m., Bobcat Lair.
 
April 10: Sashes and Sexualization – 1 to 3 p.m., Bobcat Lair.
 
April 16-19: Clothes Line Project – 10 a.m. to 2 p.m., Scholars Lane.
Students and others can participate by painting, drawing or writing on T-shirts personal messages of support and ways people will take action. The decorated shirts will be displayed throughout the week.
 
April 18: Speak Out Against Violence – 5 to 8 p.m., Carol Tomlinson-Keasey Quad.
This performance art event demonstrates how to change the environment around sexual violence and create visual art in support of survivors. Co-sponsored by VOICES and ASUCM.
 
April 23: Faculty and Staff Self-CARE – 10 a.m. to noon, Bobcat Lair in Kolligian Library.
Faculty and staff will explore self-care strategies and learn about relevant resources.
 
April 25: Denim Day Art Competition – 10 a.m. to 2 p.m., The Lantern, Kolligian Library.
Help stop victim-blaming by wearing jeans in support of international Denim Day. Campus departments and student organizations are encouraged to decorate pairs of jeans with positive messages. The CARE Office will accept decorated jeans April 23 and display them for judging April 25
.
April 26: Celebrating Healthy Masculinity – 10 a.m. to noon, Bobcat Lair.
Men are a part of the solution to end gender-based violence. Come celebrate behaviors that promote equality and confront sexism and other forms of oppression. Participants will create a collage that depicts examples of healthy masculinity. Those who RSVP will receive a cupcake.
 
April 26: Changing the Rules – noon to 3 p.m., Scholars Lane.
Learn more about preventing sexual violence on campus. Hosted by VOICES.
To learn more about sexual assault awareness and prevention, visit the CARE Office in Room 107 of Kolligian Library by using the main entrance located on the side facing the Classroom and Office Building 2 courtyard. This helps ensure that survivors have two entrances and exits for more privacy and safety. For information on SAAM events, email Taylor Fugere via the CARE Office email or call 209-228-4147.